LATEST NEWS
Helping to Rebuild a Nation Like Somalia
Latest News
July 10, 2020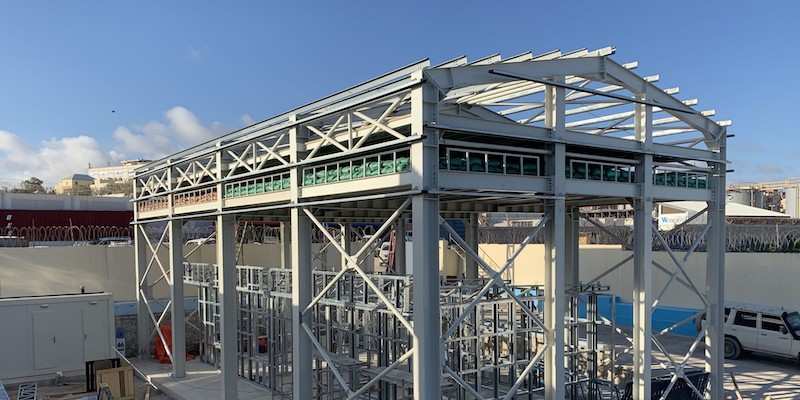 Somalis, known for their entrepreneurial spirit and resilience, have rallied to welcome global agency support to rebuild the country. Camp Operating Group (COG), are one of the contributing organisations who, responsible for providing secure accommodation and office space at Chelsea Village, have been extending their capabilities in terms of infrastructure development and project management  beyond the safety of their own compound.
Through ongoing relationships with clients from the diplomatic, humanitarian, governmental, medical, humanitarian, banking and other sectors, COG specialises in infrastructure development skills that make it possible to do business and sustain life in challenging environments.
Innovation in the Secure Building Space
One of the latest in these offerings is a new generation Safe Room called SafeCap. COG's Chief Commercial Officer, Colin Laubscher describes the maximum protection units.
"SafeCap units are manufactured in Europe and then shipped to the deployment zone where the assembly and commissioning is completed. This 'drop in' or plug-and-play design and construction method is able to greatly reduce construction and labour time, and therefore exposure on the ground in conflict zone areas, by up to 90%. Not only are they portable, but they are easy to deploy and include plumbing, electrics, ablutions and aircon," says Laubscher.
Also in production is the fourth version of the steel constructed 40ft NapCap accommodation container. The products, Executive NapCap and VIP NapCap, which will be ready later this year, are described by Chelsea Village's General Manager, Costa Yiannakis.
"Our Generation 4 NapCaps are a sign that our ethos for constant improvement, not dissimilar to the technology industry where products are updated every six months, is something that the industry at large needs to adopt.
Apart from constant improvement in terms of the safety features, the new accommodation takes in important client feedback. For instance, the drinking water dispenser is no longer in the bathroom for cultural reasons and the VIP NapCap is now configured so that meetings can take place in a separate room to the bedroom," says Yiannakis.
Providing Life through Solar Powered Water Projects  
This said, when it comes to infrastructure, COG is not only leading the way in terms of its ability to assemble light-gage steel buildings of virtually any size, but it is also the official approved distributor of EU-certified solar powered water desalination and purification systems in Somalia, Puntland, Mozambique, Uganda and Yemen.
Says Laubscher, "COG has the ability to supply and install solar powered desalination plants that are able to produce from 1000 to 600,000 litres per day. At Chelsea Village in Mogadishu for example, where water is solely provided by WaterCap innovation, the system produces 20,000L per day out of a total maximum capacity of 100,000L per day.
Local Feedback, Local Relationships
Conflict-affected areas of foreign countries provide challenging landscapes for infrastructure projects. According to Yiannakis, apart from the emphasis on a very inclusive team process, there is another differentiating factor to their success.
"Not only are we strong believers in empowering and partnering with locals but we are actually dependent on their feedback."
"Often international organisations will arrive in a foreign country with a very task-orientated, percentages-type approach that doesn't consider local custom. Unfortunately, a failure to understand how the local population conduct business, or what they consider to be culturally offensive, can delay projects.
An understanding of customs and an empathy towards local culture can achieve excellent results. At the end of the day, attention to detail and creativity are paramount but it's the relationships, teamwork and sourcing of the right people, with the right passion, that makes it all work," says Yiannakis.
The Need for More Visionaries
For the COG team who have had to hone a diverse skills base that is able to meet project demands of any budget, the concept of flexibility includes a high degree of out-the-box thinking.
"When faced with a challenging brief we will reverse engineer and innovate until there is a solution. An example of this was a unique overhead roof protection requirement for one of our client builds. In the end, instead of deeming it impossible, we found one of the best engineers in the world to meet the brief and completely push the boundaries of what is currently the norm in this space," says Yiannakis.
Word of this kind of client commitment spreads fast in a place like Mogadishu where the COG team have contributed infrastructure project management skills to a private hospital and even the local airport.
According to Yiannakis, as an organisation that falls under the umbrella of the Chelsea Group, COG intends to continue to play in a role in the restoration of Mogadishu as long the country welcomes them.
"With many damaged buildings, particularly in Mogadishu, there is an endless amount of work to do, not only practically, but also in changing the world's perception of Somalia from that of a war torn country, to an entrepreneurial business hub."
At the end of the day, the COG team agree, while the sense of activity in Somalia is encouraging, there is a serious need for more visionaries on the ground to bring about lasting social and economic reform.
One strategy that would go a long way to rebuilding the economy, says Yiannakis, is through foreign investment that partners with local manufacturing plants to produce more locally made construction material that could even be exported to other African countries.
All of this, they believe, can be done with a unified vision for positive change and reconstruction that includes investing in locals, and identifying with their culture, passion and pride.